Mobile Systems
Our involvement with mobile renewable energy systems started with a need to have power available in our own installation trucks.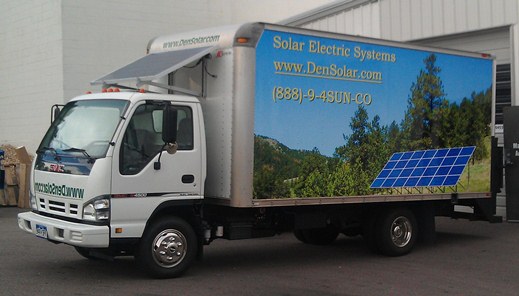 Rather than carrying a generator to each installation site, building a mobile renewable energy system into each vehicle has resulted in huge savings in time and expense.
Each of our trucks has a 230W solar panel that charges a 3kWh battery bank (separate from the vehicle starting battery). Using a commercial grade inverter, this battery bank easily supports all of the equipment we use in a typical installation. Some of our larger abrasive saws pull as much as 1800 Watts (2800+ start watts), but typically only for a couple of minutes at a time. With the trucks parked in the sun, our average power generated keeps up with our tooling demands quite nicely, and the microwave oven keeps our coffee hot to boot.
These systems are not inexpensive to install, but the advantages of never needing to run cables, purchase generator fuel, or provide maintenance easily support the initial outlay.
We are happy to offer design and installation of mobile systems like these; it's important to note however, that commercial-grade systems of this type start at $5000.00 installed.